5 tags
Most Retweeted Tweets from Twitter's Elite
As of yesterday, Twitter has uncapped the retweet totals for all accounts on Twitter. You won't see these changes reflected on Twitter.com (where they still display 50+ Retweets), but we've done our research to discover the most retweeted tweets by Twitter's elite! The results are funny, inspiring and at times just plain ridiculous. We've selected the Top 10...
Meet the Founders
Top Left (@abh1nv) | Bottom Left (@dHolowack)  Photo credits: Elisa Prajogo @eprajogo Abhi @abh1nv Abhi is the "swiss army knife" of TwitSprout. As the technical co-founder he is always focused on improving TwitSprout's products and exceeding all user expectations. Abhi has a Systems Design Engineering degree from the University of Waterloo and worked for Amazon before...
MLB Grand Slam Tweets. Yankees #postseason
It's the MLB postseason. As Major League Baseball is one of the most popular sports in America this means a surge of tweets from fans supporting their clubs with comments about the games. We were curious how fans across America react to events within the game - such as double plays, diving catches and home runs. Most people watch TV with their laptop or iPhone these days. We all have a need...
40K Tweets per Minute Celebrate Steve Jobs
It's a sad evening here at TwitSprout headquarters. I was on a Skype call when our co-founder, Adrian, looked over at me from above his monitor - a somber expression on his face - and mouthed the words, "Steve Jobs just died." My heart sank. I ended the call. At this moment the entire world began reflecting together on the brilliant innovations Steve Jobs introduced that enrich...
Taking the Emmys by Storm
Earlier this week Twitter launched a new framework for developers called Storm. The details of Storm are highly technical and I don't pretend to understand exactly how it works (we'll leave it to our awesome developers & co-founders Adrian @apetresc and Abhi @abh1nv for that). I do know this system is important to the future of mobile and web apps - especially related to social media, and...
4 tags
Obama's Other Crisis
With only hours to go before America is forced to default on its loans, President Obama took to Twitter to try and get everyone to compromise. He put out well over a hundred tweets in the course of a few hours, all with a common theme: Although each of these tweets were useful to a large number of people, all of them together were useful to absolutely nobody — and it showed. Within...
6 tags
We Love You More
You know me as Dan at TwitSprout. I know you as Matt, David, Chip, Laura, Jamie, and so many more. The truth is, I absolutely love interacting with our growing beta team. We have a manifesto posted here at TwitSprout HQ that reads: Our users will be family. You bring TwitSprout to life and I continue to learn from each and every tweet, live chat, phone call and email. Your recommendations have...
Unplanned Downtime
Our gnomes took an unscheduled vacation… To our (super-awesome) TwitSprout Beta Team, I wanted to let you know that TwitSprout experienced some unplanned downtime during Thursday July 14th and Friday July 15th. What Happened? Everything appeared calm on the surface, your private invite links continued to operate, dashboards were generated and our other sites remained live. However,...
3 tags
Results Are In! Obama Town Hall
As we promised, there's now a post-mortem page on our Obama Dashboard. The full analysis was in our last blog post, but the infographic breaks it down and provides many more details — plus we just think it's a lot of fun! Take a look at the link above, or just feast your eyes below: Thanks again for all the support — it's been quite a ride! Adrian at TwitSprout
3 tags
Dissecting Results from Obama's Town Hall
Without a doubt, today has been an incredibly exciting day for TwitSprout. What began with our Obama Dashboard announcement this morning has evolved into a whirlwind of activity, tweets, and blog posts. We are, of course, incredibly grateful to all of our partners, users, and fans for their help and encouragement; it's been a thrill. With that said, our work here is not yet done. In our...
3 tags
The Obama Dashboard -- Official Launch!
After hours of feverishly gathering, sorting, poking, and prodding all of our #AskObama data, we've finally got our first iteration of the Obama Dashboard! Our gnomes had to work hard for this information — there's no magic wand you can wave that tells you programmatically whether a particular tweet is a genuine question or just some promotional spam. It's even harder to...
4 tags
Reporting Live: Obama's Twitter Town Hall!
The latest buzz on Twitter has been all about President Obama's impending Town Hall tomorrow at 2 PM. As your friendly neighborhood social media experts, TwitSprout has been carefully monitoring and analyzing the tens of thousands of tweets to bring you our predictions and conclusions! [Jump to Word Cloud] Activity We started tracking the #AskObama hashtag shortly after the White House...
4 tags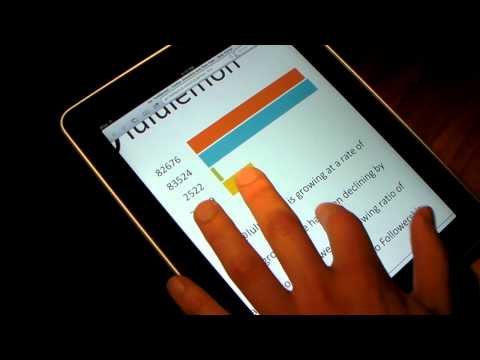 2 tags
Save and Print with PDF!
Download your One-Page Twitter Dashboard to PDF for printing and sharing! Click the link labelled 'PDF file' in the top-right corner of your account page when viewing the dashboard. Be sure to use the private invite link we sent via email. If you haven't signed up yet, join our beta! The full story… We're a social business, so I figure our blog posts should also...
2 tags
Growth of @garyvee during LeWeb 2010
Speaking at a global conference will certainly increase your online popularity, but how much? Gary Vaynerchuk (@garyvee) is author of Crush It, a #1 Best Seller, and a thought-leader in social media and brand building - with over 800,000 Twitter Followers - popularity is not an issue. Still, we were interested in how TwitSprout's Growth Report reflected activity on Gary's Twitter...
3 tags
We love the feedback
We just sent out another batch of invites for the TwitSprout beta. Every few days we bring another awesome group of users on board. We love all the feedback! We ARE listening. Your recommendations are directly driving our feature road map. Our goal is to create the most useful set of Twitter intelligence available - and we need your help. If you haven't signed up, please use our beta link...
Branded Twitter Metrics for your clients!
Sign up for the Private TwitSprout beta for more details. Ideal for Social Media Management Services, PR Firms & Consultants Clear performance metrics demonstrate value. This transparency builds a loyal customer base and is a key competitive differentiator. You work hard to establish your brand and TwitSprout's White Label service is designed to deliver a completely branded solution...
2 tags
TwitSprout Growth Dashboard - Beta
A Reference Guide to the Growth Dashboard Prototype One page with clear metrics to answer the question… are you growing? This is the first prototype. We're following an early beta launch philosophy to seek input from you, our beta gurus. You're the experts. I have put together this reference guide to help explain the calculations and purpose behind the analytics. 1....
3 tags
Welcome to the blog!
We love analytics. And we love social media. This blog will catalogue development of the TwitSprout analytics. We're tracking several accounts already in the Private Beta program. Please complete this form in you're interest in joining the beta. Much more to come. Cheers, Dan @TwitSprout